The Baby Shower Bingo Book is divided in several sections. Here you will find the different combinations and sets of bingo cards that you can print with the ebook.
Bingo book preview:
Table of contents and samples
The Baby Bingo themes
The Baby Bingo ebook is divided into four big themes: Neutral, Boys, Girls and Gifts. These names refer to the word list used in their creation and the kind of headers that the cards have:
Neutral Bingo

: The word list includes words that can refer to a baby boy or a baby girl alike. This theme can be used when the sex of the baby is still unknown. The words used are 87.

Baby Boys

: The 84 words used in this theme are more restricted. The word list contains words that can be applied only for baby boys, like "grandson", "blue" or "boy".

Baby Girls

: In this theme, the word list is almost identical to the Baby Boys' list, except for a few words that only apply to baby girls, like "granddaughter", "pink" and "girl". Like the Baby Boys theme, it has also 84 words.

Gifts

: The words used in these bingo cards refer only to possible gifts in a Baby shower, like "Layette", "Baby socks" or "Stuffed doll". The word list is also the shortest of the four themes, with 69 words.
Note: All the themes include, besides the normal cards in color, black & white bingo cards in case that you do not have a color printer or rather no to use color ink when printing your cards.
Two sizes
The Baby Bingo Book has many cards, possibly more than what you are going to ever need, nonetheless you may want not to use too much ink or paper printing the cards. This is the reason why we are including two sizes for all the bingo sets in the book. So you can select between printing big bingo cards or small ones.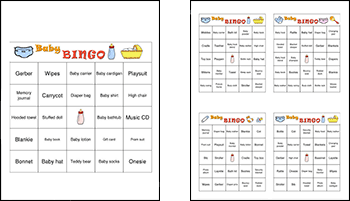 Big bingo cards

: A single bingo card per page. No problem with the size of the words, and is easier to deal the cards (no scissors involved), but more paper will be necessary.

Small bingo cards

: Four bingo cards per page. You may save paper, but check if the resulting font size is not too small for you or your players. You may also need to cut the bingo cards before the game, unless you are giving 4 cards to each player.
Print your Baby bingo cards
By combining the previous options you can select one of the 16 sections of the Baby Bingo book, but remember that you can combine cards from different sets as long as they are from the same theme.
Have fun playing bingo.
Go back to the home page.
Home
A note about printing: In the the table of contents you will find a range of pages per section instead of a single page number. When printing, you can enter that range of pages to print the corresponding section.
Get your

Baby Shower Bingo
The Baby Bingo book
1 file

2 card sizes:

1 card per page & 4 cards per page

4 themes:

Neutral, Boys, Girls and Gifts

16 sets:

56-64 cards in each set

69-87 words

in each set

636 pages

992

bingo cards