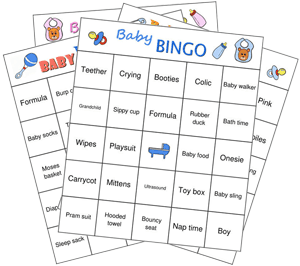 The Baby Shower bingo book
Save time and effort, more bingo cards for less.
1 file

2 card sizes:

1 card per page & 4 cards per page

4 themes:

Neutral, Boys, Girls and Gifts

16 sets:

56-64 cards in each set

69-87 words

in each set

636 pages

992

bingo cards
See what is inside:
Table of contents and samples
Payment and delivery
Your order will be processed using Paypal. Paypal is an online service trusted by millions of sellers and buyers all around the world.
You can make your payment using a credit card or a Paypal account. If you don't have a Paypal account you can use your credit card directly.
A few moments after your payment you will receive an e-mail* with a download link to your Baby Shower bingo book.
*The download link will be send to the e-mail address that you provide during the payment process, please check that it is written correctly and that you can receive e-mail in that address.


GET YOUR BOOK HERE
$ 4.96


Any questions? Please write to:
contact[at]getbabybingo.com(replace [at] with @)
Troubleshooting
Some answers for unusual delivery problems:
I ordered my baby bingo cards but the I haven't received the download link
Usually you will receive the download link in less than one minute. On very rare occasions, for a delay in the credit card processor or in the global email delivery system, the email can take up to 40 minutes to arrive.
Please be patient, if after that time you don't receive the link, please write to the email above. We will send you directly the bingo cards file. Remember to check your spam folder, our email with the link may have arrived there.
I received the download link but when I click on it, I can't download the bingo cards
Maybe there is a problem in your Internet settings, please write to us and we will send you directly the file.